New Toyota Corolla Cross in Fort Wayne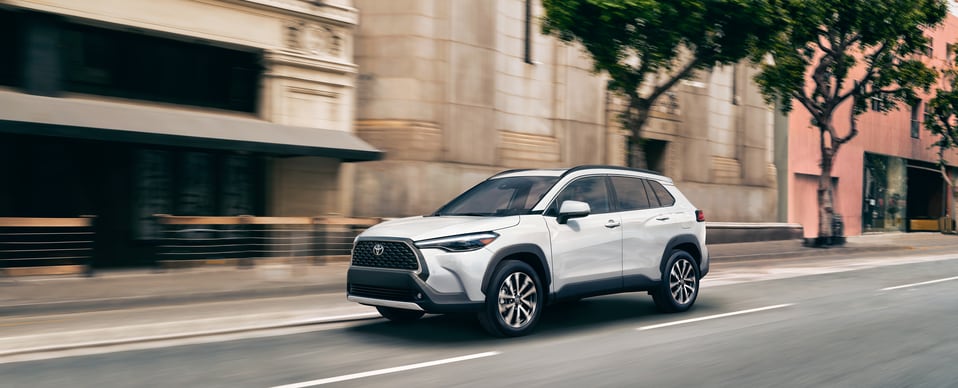 Buy or Lease the

New 2022 Toyota Corolla Cross

in Fort Wayne, IN
Learn More About Toyota's New Corolla Cross Small SUV at Fort Wayne Toyota
The Toyota Corolla? It's one of the best compact sedans on the road. Sturdy, comfortable, and overflowing with value, there's a reason that so many Indiana drivers have made it their go-to car of choice.
It shouldn't be hard to understand, in turn, why many Fort Wayne, IN drivers are excited about the prospect of the all-new Toyota Corolla Cross.
A new subcompact making its Toyota lineup debut this year, the 2022 Toyota Corolla Cross takes the value and charm of its sedan sibling and wraps it up in the chassis of a comfortable SUV. Available for sale at Fort Wayne Toyota, the Corolla Cross is definitely worth a second look.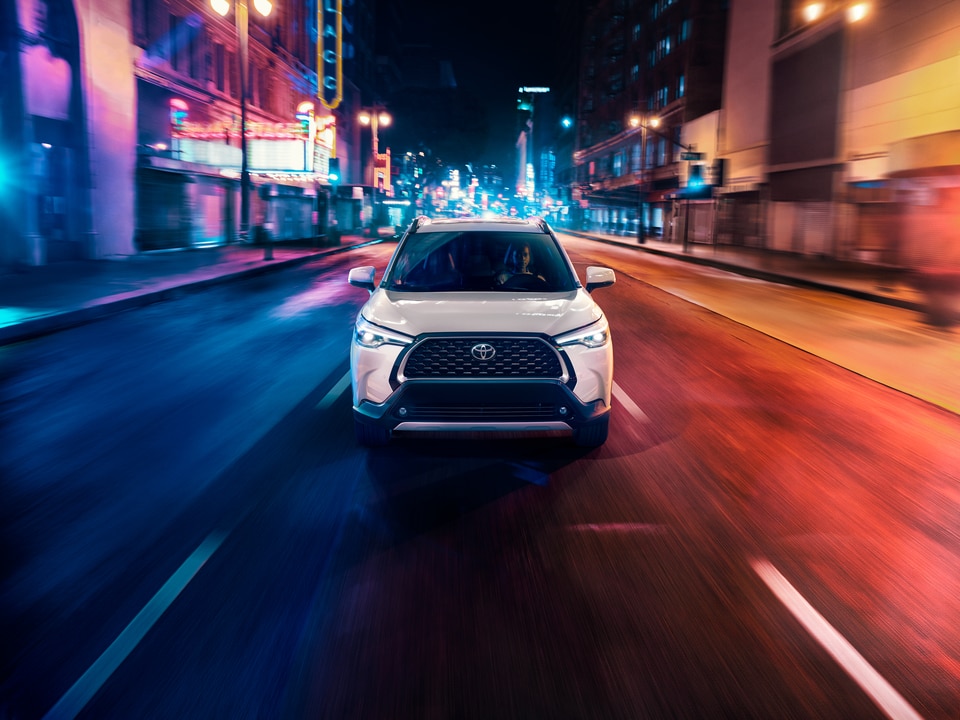 Find a New Toyota Corolla Cross that Fits Your Needs
The 2022 Toyota Corolla Cross comes available in three different trims:
Corolla Cross L
Corolla Cross LE
Corolla Cross XLE
This trio of trims offers a robust selection of features, even just at the standard model level. Customers who invest in the Corolla Cross will find a winning collection of standard features, including a 7-inch infotainment touchscreen, complete with the Apple CarPlay and Android Auto media apps. Every new Corolla Cross model also comes equipped with rich active safety technology, including adaptive cruise control, automatic emergency braking, and more.
Drivers willing to invest in higher-level models, meanwhile, will unlock a bevy of worthwhile benefits. These can include everything from automatic climate control to heated front seats, a power liftgate, and a 9-speaker JBL premium sound system.
No matter what sorts of features you prize most, the 2022 Toyota Corolla Cross can offer you options that will send you home satisfied.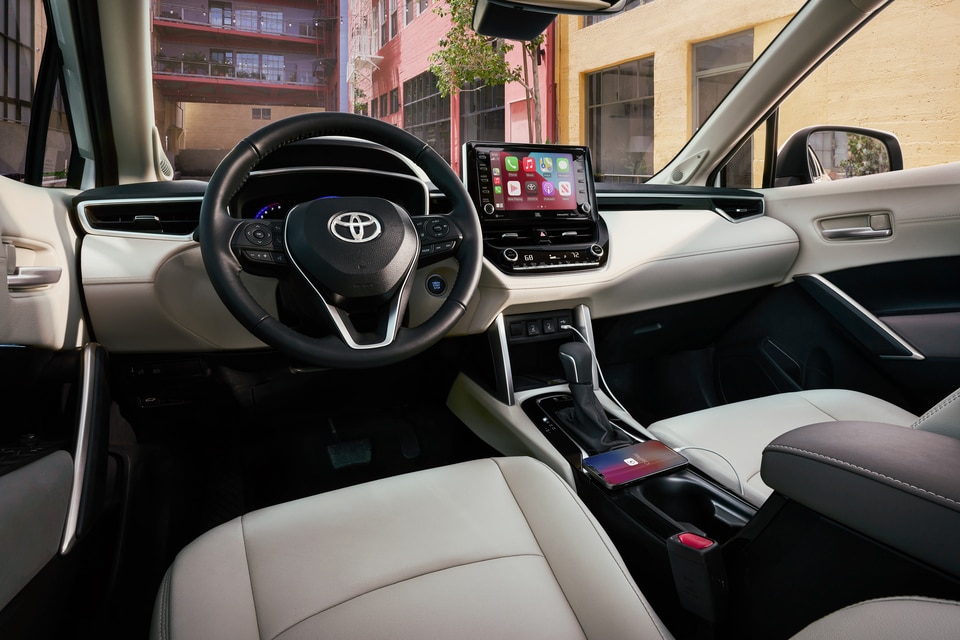 Dependable Subcompact Performance for Every Road
One thing that dogs many subcompact SUVs? Performance options that in no way mirror the versatility that drew many people to the SUV market in the first place. Even though the Toyota Corolla Cross was originally based on the Toyota Corolla sedan, the new SUV still stands out with some solid performance options. These include all-wheel drive.
2.0-liter inline-4 (FWD): 169 horsepower, 150 pounds-feet of torque, 31/33 miles per gallon
2.0-liter inline-4 (AWD): 169 horsepower, 150 pounds-feet of torque, 29/32 miles per gallon
Even without AWD equipped, the 2022 Corolla Cross offers some nice benefits behind the wheel. Its 169 horsepower is more than adequate for a vehicle of its size. Its higher fuel economy, meanwhile, can help you cut costs at the pump - a boon you won't enjoy with a bigger, more gas hungry model.
The AWD model, however, gives you the tools to make the most of its SUV design. Its higher ground clearance and more rugged chassis give it the tools to be more than just a more spacious five-seat vehicle. All-wheel drive just helps to seal that deal.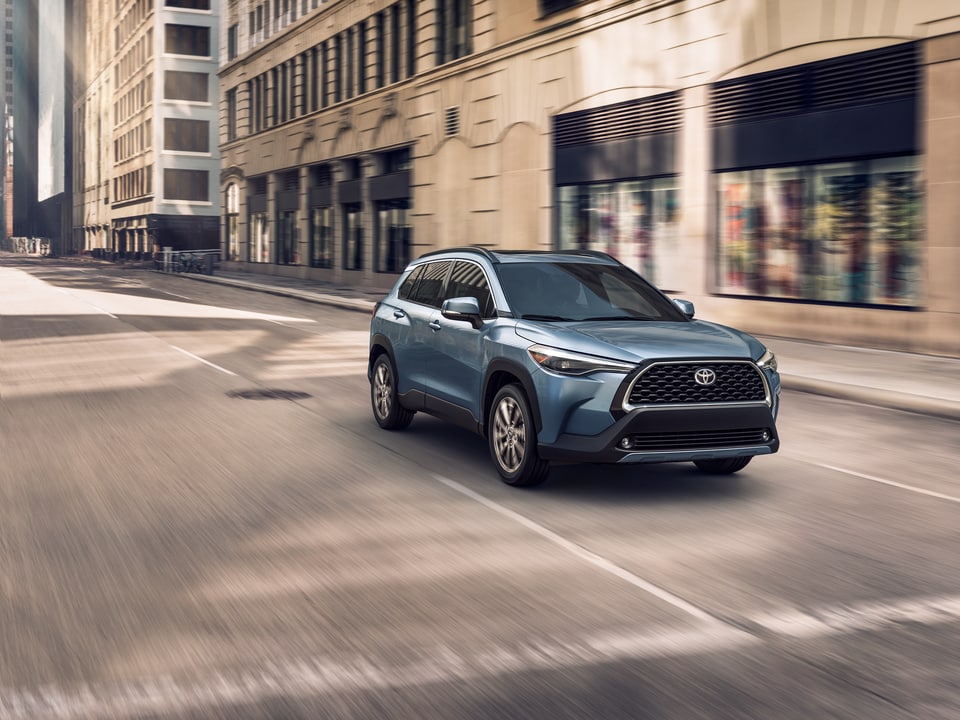 Schedule Your 2022 Toyota Corolla Cross Test Drive Today
Are you a Fort Wayne drive ready to get started with the 2022 Toyota Corolla Cross? Contact the sales team at our dealership today to learn more! We can answer any questions you have about the new model, its offerings, and more. We can set you up with a test drive and get you in line to buy one of your own. Don't hesitate to reach out to us today to learn more about this exciting new model.
You can also reach out to us to learn about our current Toyota lease deals. The only better thing than a worthwhile new model like the Corolla Cross is a new model with a lower price tag. Our finance team can help you apply for financing.
Contact Us For Corolla Cross Availability Updates