RohrRider Preferred Care

Saves you money in so many ways!
RohrRider Preferred Care will work for you. The bottom line speaks for itself!

Save Money
The longer you choose to participate in the program, the more you save on standard maintenance such as oil changes, filter replacements, safety inspections, tire rotations and other additional services. A well maintained vehicle will cost less to operate while it retains a better resale value.
Save Gas
The multi-point maintenance inspection, performed multiple times a year, checks your engine performance, tire inflation and wear, emissions controls, and other key factors to increase your fuel economy.
Be Safe
A well maintained vehicle is safer for you and your passengers.
 LOCK IN TODAY'S RATES ON
Oil Changes | Tire Rotations | Safety Inspections | And More

Choose from our multi-year bundles and magnify your savings even more. Not only are the services discounted, you are locking in today's prices for all the years of your package!
Visit our website for more information, and for your vehicle's complete maintenance history.  Take a look at the chart to see how.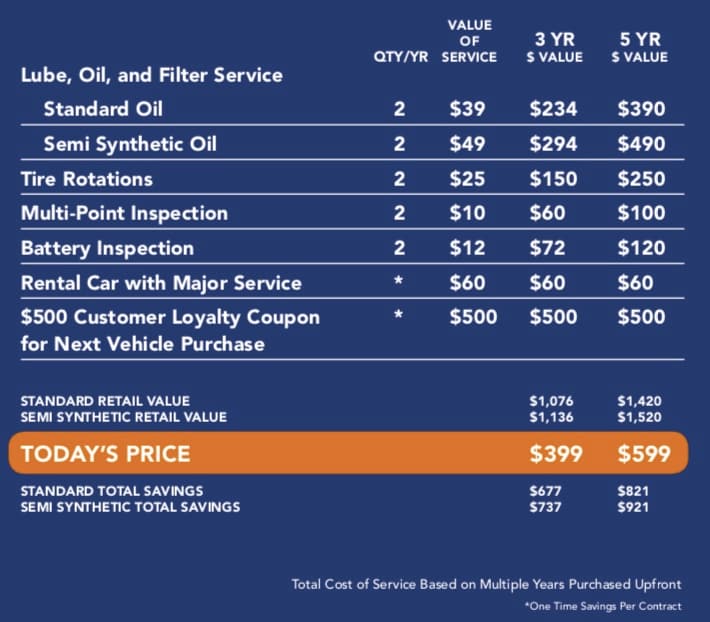 NOTE: On a brand new Toyota vehicle purchase get 3-years of Rohr Rider Preferred Care coverage for only $199.00 or $399.00 for 5 years.  Ask one of our team members for full details.
For more information on the
Rohr Rider Preferred Car program,
simply give us a call and ask to speak to a
Finance Manager or stop in at your convenience.


WE ARE DEDICATED TO PROVIDING COMPLETE CUSTOMER SATISFACTION! This services is based on the manufacturer's (and dealer's) maintenance recommendations and may meet or exceed those recommendations. It is designed to cover the needs of the vehicle driven under local driving conditions. You may require more or less maintenance depending on use, driving conditions and special equipment or options.

Make an Inquiry
* Indicates a required field